I never thought painting could be so easy. I regret not using it sooner! ——Jennie J
You know almost every carpenter needs to paint, whether it is to paint his own fence in the yard, or to change the color of his own door, or to paint his client's entire exterior wall. In short, painting is arduous, especially when it comes to painting wooden doors. There are always paint drops everywhere, and the door that has just been painted has nowhere to put it. If it slips to the ground accidentally, it will be a total pain in the ass, and then you have to start all over again.
In traditional painting, we always have a lot of trouble after painting, because the wood needs to be fully dried before it can be turned over, or it will leave marks on the wood paint and it is difficult to fix.So what to do? Usually we placed the board on the stands, maybe 7 to 10 days later we will do the second surface paint. But the space has been occupied and time has been wasted.
It takes 15 days or more for a door to be completely painted and dried. Moreover, due to space constraints, only two door panels can be painted at most at one time.
But if there is a solution, it can solve this problem, and ensure the integrity of the painting and save the maximum amount of time and space?
Saker Spray Paint Rack is the key to break through the biggest barrier of difficult painting, so that your painting is no longer a waste of time and space.
No more long waiting: This Saker Spray Paint Rack can be easily turned over without damaging the painted surface, so as to easily paint the other side, no longer meaningless to wait!
No more space-wasting: By its unique I-type design, the boards can be neatly stacked on top of each other without any damage to the paint or streaking.
But fair warning: the word about Saker Spray Paint Rack is spreading like wildfire and most customers are buying in bundles.
We strongly suggest ordering now, before inventory runs low or supplies completely sell out again.
Saker Spray Paint Rack is completely independent design, different from the traditional ones. It is a revolutionary tool that allows you to paint and stack doors and trim with ease. With its unique and innovative design of the I-type, it can totally change your way when you paint. A lot of problem will be avoided because it will both save your area of stocking and the hassle of trying to avoid drips, runs and smudges from too much project handling. It is a perfect tool to make your work more efficiently.
It not only has a unique I-type design, but also made of very good materials! It is amazingly durable, versatile and reusable. Its strong construction will withstand countless painting projects, providing an effective and efficient solution to the everyday painter problems. It is easy to set-up and operates. Before your painting, you only have to remove all the hardware such as the door hinges and handle or knobs. Attaching the tools on the four corners of the door, and then you can do the painting or repairing you want without any trouble. The door can be flipped easily by this tool when you have painted the other side and want to continue.
Don't take it from us:
"Highly recommend!"
"This product is so great. They look so well made and have a very good quality.They work well and I have used them for my DIY projects. Not only can it flip the door easily, but it can also be stacked together without taking up space. It helps me a lot! I highly recommend it."
"Great functionality"
"Good quality! When painting or spray painting, I need such a tool to place my project, it can ensure my work safety, reduce confusion, and get excellent results. It is also very simple to use. Using Saker Spray Paint Racks, I can paint one side, flip it and paint the other side. An added benefit is that the doors can be stacked together without touching them."
Thomas L., Birmingham, AL
"Easy to use"
"We used the Saker Spray Paint Racks when we painted our kitchen cabinet doors, these worked great to keep all my doors off the ground and make it easier to paint. They were perfect! Not too tall or too short and they held the weight of the doors just fine."
Saker Spray Paint Rack is not available in stores and can only be found online through the link on this page.
Now that you've discovered how good and convenient that Saker Spray Paint Rack can be — without endless waiting— follow these steps to get started:
1.Go to the official Saker website to place your order.
2.Get yourself a much better tool to help yourself.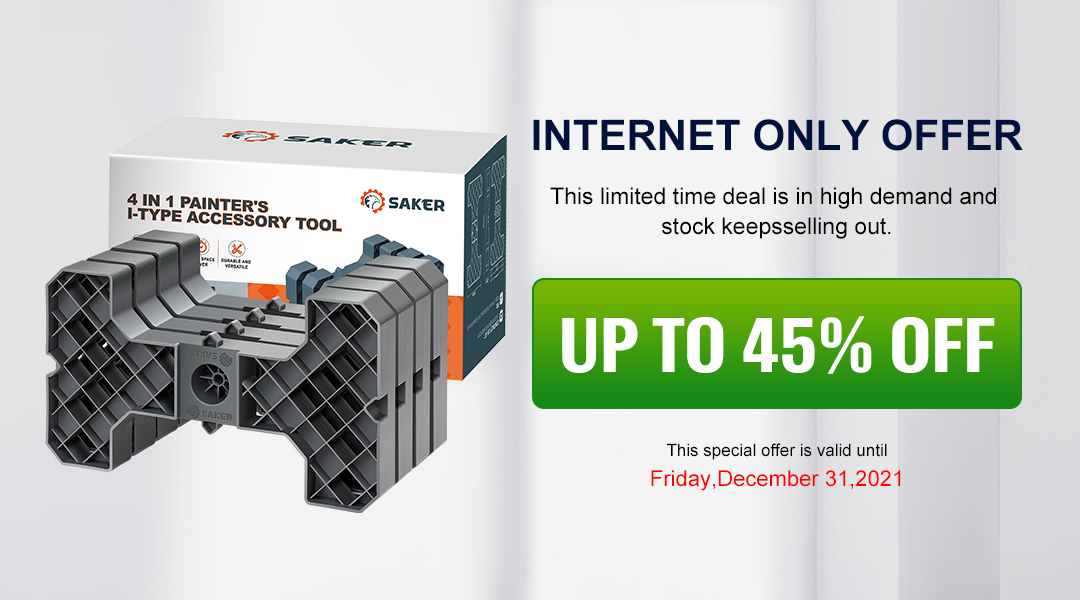 -----------------> Reserve your Saker from their website
Apparently last time they pulled the sale after 24 hours, so I really wouldn't wait.
Check Availability and Try the
Saker Spray Paint Racks Now for 45% OFF ---------------->